Dr. Matthew Russell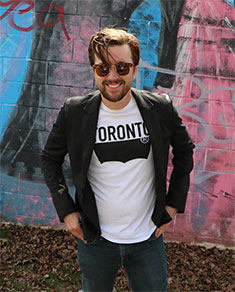 Your nervous system controls your whole body. It is telling your lungs to breathe and heart to beat. This is why I'm a Chiropractor."
Dr. Matthew Russell began his pre-chiropractic education at the University of Guelph where he successfully completed an Honours Bachelor of Science degree. During this time, Dr. Russell explored various subjects in the health sciences, but his true passion was in human biology and physiology. Dr. Russell began exploring several healthcare disciplines, but it was a visit to his local Chiropractor that changed everything.
"After seeing such extraordinary changes in Chiropractic patients, myself included, who wouldn't want to be a Chiropractor? We are currently in a health-crisis and must focus on natural, non-invasive ways of staying healthy. For many people, Chiropractic is the answer."
Dr. Russell was accepted to New York Chiropractic College where he received his Doctor of Chiropractic degree. During this time, Dr. Russell spent countless hours studying anatomy, human physiology, clinical diagnosis, x-ray analysis and Chiropractic technique. After treating hundreds of patients at the Depew Health Centre and various under-privileged clinics in the Buffalo area, Dr. Russell returned to Oakville and began fulfilling his vision.
"My goal as a Chiropractor is to help as many families as possible, that's it."
Dr. Russell has a wonderful and supportive family, who always come first. He is engaged to an amazing woman, Laura, who he has been with since his early teenage years.
"Living and practicing Chiropractic in Oakville is an extraordinary joy and I am grateful to be a part of such a caring health team at In-Line Family Chiropractic."
When not adjusting patients, Dr. Russell can be found educating the community on various health topics and participating in local charitable events. Dr. Russell enjoys running and playing with his two English bulldogs, Atticus and Prudence.
"Thank you for visiting our site. I hope it can be an educational tool to guide you on your path to health. Please call the office with any questions, we are here to serve you."
"The greatest wealth is health." -Virgil
---
Chiropractor in Oakville | (905) 827-2757