Dr. John Zeni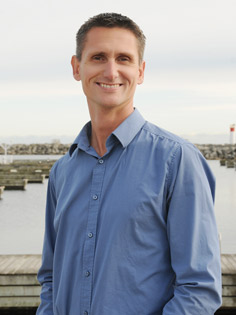 At 17 years old, you shouldn't have a problem putting on your own pants!"
"That was the first time I knew something was wrong with my back" admits Dr. John Zeni.
"After many years of intense hockey training, my body was paying the price. I went through the traditional steps that many of us would take. First, I took some pain killers, then I saw my medical doctor and he sent me for some x-rays. The x-rays were negative and apparently I was as healthy as a horse. Well, I definitely didn't feel that way. So I was sent to a physiotherapist and after several months of therapy I wasn't much better than before. Finally, I was referred to see Dr. Peter MacDonald a local chiropractor and everything changed from there! Now, many years later chiropractic has become a huge part of my life, and I am extremely thankful that someone took the time to put me on the right path."
Oakville Chiropractor's Education
Dr. Zeni began his pre-chiropractic education at Lakehead University, where he focused his studies on human biology, exercise physiology and anatomy. He graduated with a bachelors degree in biology and after completing his study there, Dr. Zeni was accepted at Northwestern Health Sciences University in Minneapolis, Minnesota. During his four years at Northwestern Dr, Zeni spent many hours studying biochemistry, anatomy, human physiology, X-ray procedure, clinical diagnosis, chiropractic adjusting techniques and patient care in the Northwestern Public Clinic. After graduating in 2003 Dr. Zeni returned to Canada to establish his practice.
"Chiropractic has given me the ability to change peoples lives! I never imagined I would be working in a profession where I would be able to see miracles happen in-front of me on a daily basis."
Dr. John Zeni's Family Comes First
I am married to a wonderful, caring and supportive wife, Mandi, and have 2 amazing girls Brooklyn and Peyton.
"My family always comes first! Without their support and understanding I would never have been as successful as I am today. Watching my children grow up in a healthy environment and seeing the impact chiropractic has made on their health is amazing. They are never sick, have never taken a drug in their life, and are already promoting natural health and wellness to people they meet. Even as children, they understand that health comes from within!"
"Thank you for visiting our site. I hope it can be a source of hope and healing for many of you. Take the time to learn how chiropractic care will change your life as it did for me. If you have any questions, please contact us, we are more than happy to speak with you."
---
Chiropractor in Oakville | (905) 827-2757